• STUDIO SAFETY,
World Batik Conference 2005 and The Surface Design Conference KANSAS CITY 2007

• HAWAII Workshop Review & Photos



• BANNER commission for Peidmont Community Church



• STEAMING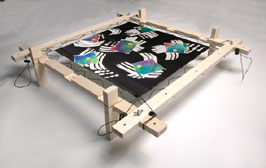 Small square model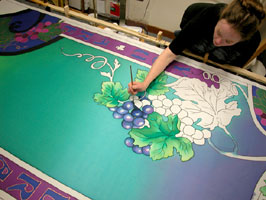 Susan working on banner 45"x 153"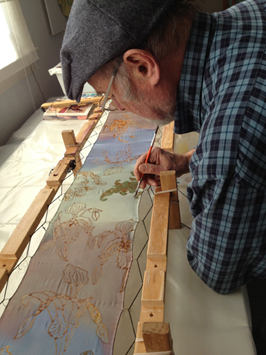 Keith Smith painting a design he created using Indonesian tjaps and wax on silk.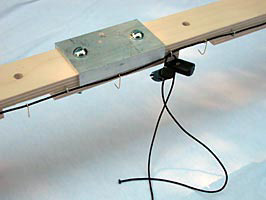 Stretcher Joint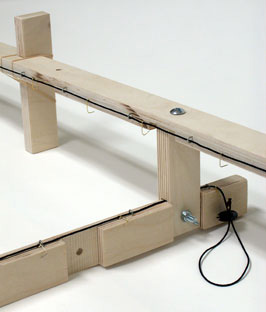 Extension leg and bracing unit




"after struggling for eight years with every imaginable system, this one is just terrific-quick, easy & effective"

-Elizabeth Heber, Australia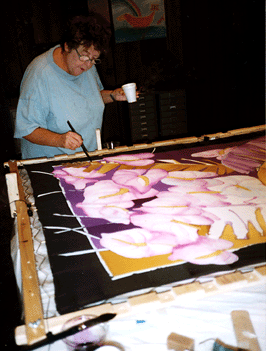 Above: Ms Liz painting a "cocoon", 45" X 56" using The Moyer Design™ Fabric Stretching System, during one of Susan's Retreat/Workshops in Hawaii.

Below: The finished painting of Liz's cocoon jacket layout is ready for steam fixation and the seamstress.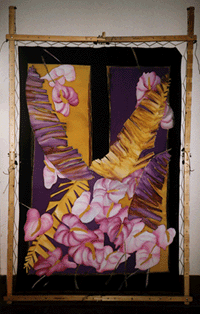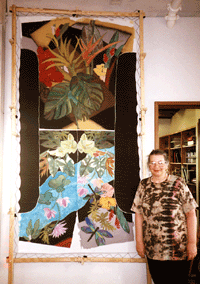 Please call Susan or Dale to order, 800.790.6377
For more information please scroll down.

"YOU STILL CAN'T BEAT THE ORIGINAL HASSLE FREE" MOYER DESIGNTM FABRIC STRETCHING SYSTEM. It consists of interchangeable short and long bars, allowing for a variety of useful combinations and sizes. Each set in the system can be UPGRADED to accommodate longer and wider fabric by adding additional sets.

Designed by Susan Louise Moyer, this easy-to-use fabric stretching system automatically adjusts the tension of the wet fabric as you paint, eliminating the need to restretch work-in-progress... removing the hassles of push pins, tacks, and sagging silk. Fine rust proof fabric hooks and elastic cord keep the fabric suspended away from the frame and the work surface. This unique patented stretching system and its sturdy wooden frame make this equipment ideal for painting yardage and pre-hemmed silk scarves. All parts are interchangeable to create a variety of stretcher sizes. It's built to last!

1. SMALL SQUARE SET $105
Consists of (4) short bars to accommodate fabric up to 20 x 20". This is a convenient size for the new student and others that may want to do small pieces for quilts, pillows and DyeColourTM painting on silk. This is an easy size for traveling and workshops.

2. SMALL RECTANGULAR SET $125
Consists of (2) short bars and (2) long bars to accommodate fabric up to 20 x 36". This is the perfect size for DyeColourTM painting on silk. It will allow an 18 x 24" painting with a 2" border as well as a 10 x 20" side panel for testing colors and technique development.

3. BASIC COMBO SET $240
Consists of (4) short bars and (4) long bars to accommodate fabric 48 x 78". This set is for the an artist who wants multiple stretching options at an affordable price. Below are some of the more frequently used size options and scarf blanks this set will accommodate.
Rectangles:
8 x 54" / 20 x 36" / 15 x 60" / 20 x 72" /
45 x 72"
Squares:
20 x 20" / 27 x 27" / 30 x 30" / 36 x 36" /
45 x 45" / 55 x 55"

4. PROFESSIONAL COMBO SET $355
Consists of (6) short bars and (6) long bars plus (2) extension foot-braces. Save $35.00 over purchasing a smaller set and UPGRADING ($390.00). This set is for the professional artist and offers our most convenient and versatile options. It will accommodate the most configurations and provide the longest length of 3.33 yards.

5. LARGE SQUARE SET $140
Consists of (4) long bars 36 x 36"

UPGRADES AND ACCESSORIES

6. Versatile EXTENSION SET $150
UPGRADE the Basic Combo Set to a Professional Combo Set Consists of (2) short bars and (2) long bars, (2) foot braces and hardware. Extends up to 44" and stabilizes the additional length.

FABRIC STRETCHING HOOKS (42) $12.50

Special price of $10.50 for 42 hooks or two bags of 42 for $20.00 (at time of stretching system purchase)

FYI: All Stretcher Sets come with the necessary Fabric Stretching Hooks.

(Fabric hooks only available for frame purchasers)


NOTE: UPGRADE one set by adding another as follows:

UPGRADE from Small Square Set to Basic Combo Set by adding the Large Square.

UPGRADE from Large Square Set to Basic Combo Set by adding the Small Square Set .

UPGRADE the Small Rectangle Set to the Basic Combo Set by adding a second Small Rectangle Set.

UPGRADE the Basic Combo to the Professional Combo Set by adding the Extension Set.

UPGRADE the Professional Combo Set to accommodate wider and longer fabric by adding the Extension Set.

If you have the room to accommodate yardage you can keep adding length and width to your Moyer Design Fabric Stretching System.

Please click here for order form.

*The frame can be completely disassembled for storage. Adjustable legs, easily slip on and off, can be placed most anywhere on the frame, enabling the frame to be supported on a surface that is smaller than the frame itself. Remove the legs to lay the frame on a flat surface for tracing, drawing, stamping, or screen printing designs.

See TIPS for helpful hints for stretching your silk or other fabric.

© 1993 MOYER DESIGN™ STRETCHER Patent #5,056,247 • MADE IN THE USA

Call toll-free: 1.800.790.6377

"…the Mercedes of its kind…quality materials and ingenious
conception…"
—Jean-Louis Mereault, Quebec

Below: The finished painting by Karen Chan showing a Kimono layout size 45" X 90" (extension used) painted on one piece of silk, ready for steam fixation and the seamstress. Painted during one of Susan's Retreat/Workshops in Hawaii.

Order Form
to Print and Fax your order)

Back to Top